MCAS is pleased to offer a $1000 scholarship annually at the Saskatchewan Apprenticeship and Trade Certification Apprenticeship Awards based on the highest mark in either the Plumbing, Sheet Metal, Refrigeration, or Pipefitting trades.
Recipients are selected based on the criteria established by the association for outstanding achievement in training and certification.
---
2023 Apprenticeship Award
Congratulations to Robin Kohl, 2023 MCAS Apprenticeship Award winner.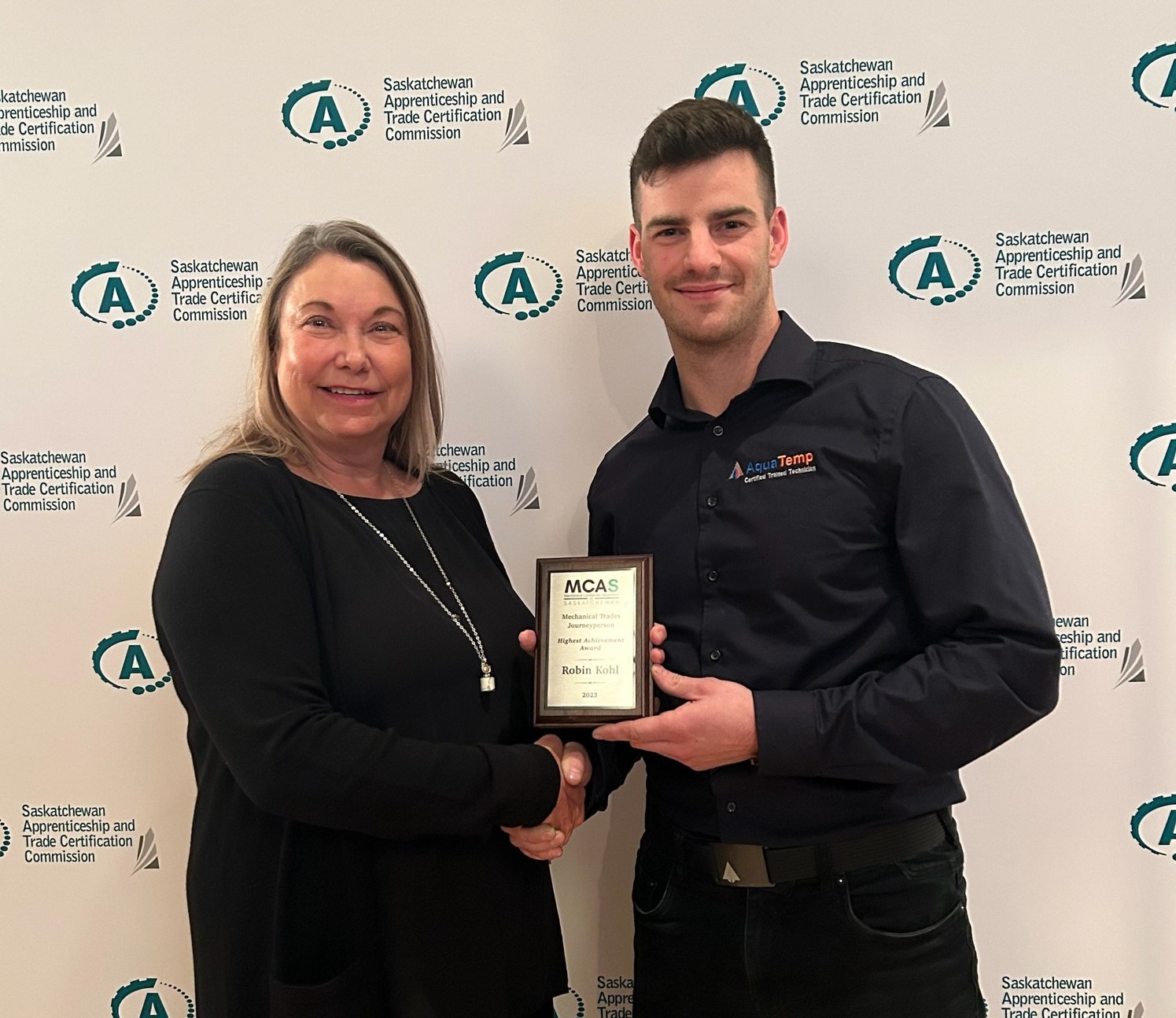 ---
2022 Apprenticeship Award Recipient
Congratulations to Jesse Holmes, winner of the 2022 MCAS Apprenticeship Award (second from left).
Past Recipients
The scholarship winners of the past and present are listed below.
Year
Plumber
Refrigeration
Sheet Metal Worker
Steamfitter/Pipefitter
2022-2023
Robin Kohl
2021-2022
Jesse Holmes
2018-2019
Layne Cote
2017-2018
Alex Moebis
2016-2017
Kaelen Wall
2015-2016
2014-2015
Mason Ganzert
Robert Boyachek
Aaron Waselick
2013-2014
Eli Crooks
2012-2013
Marty Tessler
Jeremy Flamand
Michael Bender
2011-2012
Jeremy Kerr
Timothy Renauld
2010-2011
Grant Halter
Jarvis Rye
2009-2010
Chad Bartel
Brandon Laseski
John Akister
Brad Koshman
2008-2009
Ryan Taves
Ryan Unruh
Dale Empey
Jared Bakke
2007-2008
Jody Keyowski
Ole Anderson
Travis Keyowski
Byron Schneider
John Thickson
Darin Wilkie
Devin Furgason
2006-2007
Kris Lindquist
Shane Reddekopp
Denny Duncan
Dustin Saccucci
Jason Davies
2005-2006
Jessie Abdai
Ryan Klemenz
Gordon MacDonald
2004-2005
Dale Empey
Kim LaRose
Chris Henriksen
2003-2004
David S. Cross
Ryan Hammond
Kenneth L. Leach