The Mechanical Contractors Safety Handbook ia available at the MCAS office. We know contractors will find this an invaluable tool to aid their Company Safety Plan.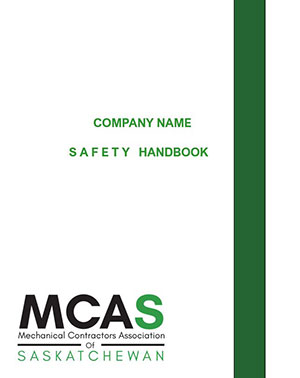 It is a pocket-sized booklet written particularly for apprentices and journeymen at job sites and in shops. The manual includes sections on general safety and health provisions; protective clothing and equipment, welding and cutting; fire prevention; materials handling; and other safety and health regulations for construction. It outlines both employer and employee responsibilities towards maintaining a safe workplace.
The rules are not difficult, on the contrary, most are relatively simple common sense procedures that are written in an easily understood language with pictorial presentations. The booklet comes in a convenient 4" × 6" size, which workers can carry in their pocket to refer to when confronted with a question on safety.
Costs for this publication are as follows:
| | | |
| --- | --- | --- |
| | Members | Non-Members |
| Single Copy | $9 each | $12 each |
| 2 to 9 copies | $8.60 each | $11.40 each |
| 10 to 49 copies | $8.30 each | $10.95 each |
| 50+ copies | $7.80 each | $10.20 each |
Contact the MCAS office to order your handbook at (306) 664-2154 or e-mail us at This email address is being protected from spambots. You need JavaScript enabled to view it..